Lucinda Devlin's photographs are included in major US and international museums such as the Guggenheim Museum, NY, the Houston Museum of Art, Houston, TX, the San Francisco Museum of Modern Art, the Whitney Museum of Art, NY, the Bibliothèque Nationale, Paris, France and the National Museum of Photography, Film and Television, Bradford, UK.
Included at San Francisco MOMA in the exhibition entitled Exposed: Voyeurism, Surveillance and the Camera Since 1870, curated by Sandra Phillips. The exhibition opened at the Tate Modern in London, May 2010, and continued to SFMOMA in October 2010. It then traveled on to the Walker Art Center in 2011.
Venice Biennale: Harald Szeemann presented a solo exhibition of the complete "The Omega Suites" at the Venice Biennale in 2001.
25th Biennale São Paulo: Julian Zugazagoitia presented "Pleasure Ground" at the 25th Biennale São Paolo,Brazil, in the American pavilion in 2002.
Solo Exhibition of "Pleasure Ground" at the Bibliothèque nationale, Paris, France, 2002.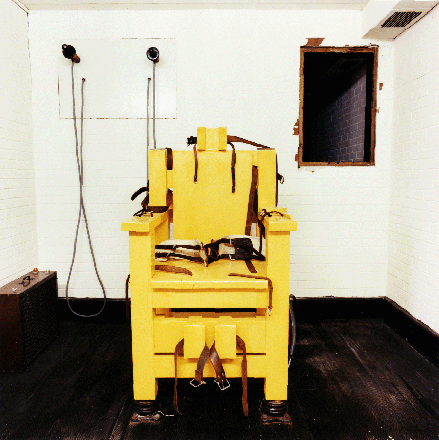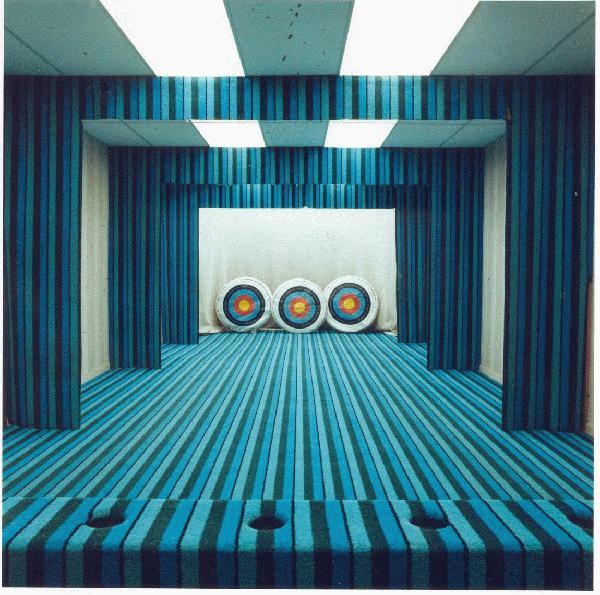 Lucinda Devlin was born in 1947 and belongs to the generation of American photographers who pioneered fine art color photography. Her photographs are both noted for their attention to formal composition, capturing a delicate balance of available light and intense color values, and for their focus on carefully selected, though disparate, themes of subject matter.

Devlin always uses a square format with a wide angle lens, allowing her to step in close to her subject. The technique creates a sense of intimacy and spatial depth. The viewer is invited to enter the space of the photograph and discover how it would feel to be in these divergent, often constrained and uncomfortable, environments. Devlin occupies a distinct position in current photographic practice. Although she is one of the early exponents of a contemporary photographic approach which emphasizes objective point of view, she also introduces layers of questioning and ambiguity into her images. While her photographs reveal the ubiquitous artificiality of contemporary life, she also offsets theatrical contrivance with close attention to the real world. Ultimately Devlin belongs in the American narrative tradition and the object of her inquiry is the real condition of the human subject.
MFA , Photography, Eastern Michigan University, Ypsilanti, MI, 1974.
Graduate Studies, Photography, School of the Art Institute, Chicago, IL, 1972.
BS, English/Art, Eastern Michigan University, 1971.
ARTIST STATEMENT
Camera: Hasselblad 2 1/4 square format
Print type: Chromogenic
PROCEDURE
Camera on a tripod, long exposures. The pictures are taken with available light - this is any light that is present in the scene (no added artificial light) It might include daylight, tungsten, fluorescent alone or in combination. Color film is balanced for a particular light source. The film I use is balanced for tungsten, therefore it should record tungsten light somewhat accurately. However, tungsten balanced film will record daylight as cyan (blue/green) and fluorescent light as more green. So you can see the difficulties which might arise if more than one light source exists. These difficulties become more pronounced with the long exposures because color shifts (in the way the film responds to light) may occur. I do not use color correction filters on the camera since you can only make a correction for one light source and not the others which may exist in the scene. I do all color correcting in the printing by changing the color filtration on the enlarger. Sometimes, all color shifts can be corrected to make the image "appear" normal. But, if two light sources exist one has to make a decision as to which one to correct for. This makes for colors in some pictures which you would not see with your eye in the original scene. Ex. Arkansas-red, Illinois--cyan Color serves as a compositional element and can appear as a plane of color that only exists in the photograph.
- Lucinda Devlin